Are You Ready for a New Season?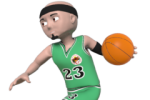 Hey folks,
are you ready for another season? We sure hope so, because there are only a few days left until it starts. Don't forget that the sponsor offers start coming in tomorrow and your decisions may have a big influence on the future of your team.
In the meantime, you can follow all the action from the World Cup for free! Don't forget to support your country in the battle for gold.
As ever, there will be league regrouping in selected countries to remove inactive teams from the bottom two league levels. League regrouping will take place in the following countries:
China, Finland
If you sign a sponsorship contract with bonuses and you happen to be moved to a different league during league regrouping, please don't be alarmed. You will have the option to renegotiate your contract during the first 2 days of the new season so that you can make the right choice. Check your new opponents before you make a decision.
Good luck in the new season!
Автор:

vlady
-
Преведувач:

vlady
Сподели на Facebook
Сподели на Twitter
Сподели на MySpace