New Seasons in Soccer and Basketball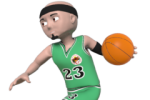 Hi folks,
both soccer and basketball are heading into a new season. In soccer it will be season 23 and in basketball season 15. Before the new seasons start on Monday, you will have the opportunity to sign new sponsorship deals as usual. The first offers will come in tomorrow so don't miss them.
As ever, there will be league regrouping of the lowest two league levels in selected countries. In soccer, it will be the following countries:
Africa, Algeria, Asia, Azerbaijan, Bosnia and Herzegovina, Brazil, Canada, Chile, China, Colombia, Denmark, England, Europe, Greece, Ireland, Israel, Italy, Kazakhstan, Latvia, Netherlands, Serbia, Slovakia, Slovenia, Ukraine, Uruguay
In basketball, there will be league regrouping in:
Argentina, Austria, Bulgaria, Bosnia and Herzegovina, Belarus, Canada, Czech Republic, Germany, Estonia, Greece, Iran, Latvia, Slovakia
Remember, if you happen to be moved to a different league during league regrouping and you have chosen a sponsor offer with performance bonuses, there is no need to worry. You will get a chance to switch to a regular sponsor offer or change your target position for bonuses during the first 2 days of the new season.
That's all, good luck with your sponsor offers!
Author:

vlady
-
Translator:

vlady
Share on Facebook
Share on Twitter
Share on MySpace