Update on development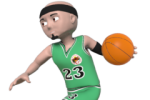 Dear friends,
the launch of the full version of basketball is almost here. However, we will have to postpone it by a few days. The original plan was to launch it today (June 23). Unfortunately that won't be possible. There are still some things missing in the game engine and we wouldn't like to launch the game before the engine is completed.
The new plan is to launch the game on Wednesday or Thursday. If that happens, the first day of season 1 will be next Monday (June 30). You can use the first few days of the full version to play some friendly games and test the tactical options.
Thank you for your patience and also for your help with bug reporting so far.
Have a nice day!
Author:

vlady

-
Translator:

vlady

Share on Facebook
Share on Twitter
Share on Google+
Share on MySpace