New seasons in soccer and basketball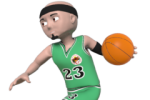 Hi friends,
for the first time in the history of PPM, a new season will start in 2 sports on the same day next Monday. The updates will be running on 2 different database servers so there shouldn't be any issues. This is the time of the season for national team tournaments. Support your country in PPM Football Challenge Cup, U20 and U17 Football World Cup and the Basketball World Cup. There is plenty of action going on.
And remember, the U19 and U17 national teams in basketball will be launched next season. You can still sign up as a candidate for manager of these teams. Don't miss your chance.
As usual, there will be league regrouping in selected countries to remove the inactive teams from the bottom two league levels.
In soccer league regrouping will take place in all countries except:
Argentina, Australia, Azerbaijan, Bulgaria, Canada, China, Chinese Taipei, Croatia, Denmark, Greece, Hungary, Italy, Japan, Latvia, Montenegro, Norway, Oceania, Paraguay, Portugal, Romania, Scotland, Serbia, Slovenia, Sweden
In basketball league regrouping will take place in:
Argentina, Belgium, Bosnia and Herzegovina, Brazil, Canada, Czech Republic, Germany, Greece, Iran, Netherlands, Other World, Poland, Russia, Serbia, Spain, Switzerland, Turkey, UK, USA, Venezuela
That's all, good luck with your sponsor offers!
Author:

vlady
-
Translator:

vlady
Share on Facebook
Share on Twitter
Share on Google+
Share on MySpace