New Basketball Season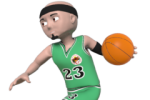 Hi folks,
as you probably know, season 42 in basketball starts next Monday. As usual, these last few days are reserved for choosing new sponsors and maybe setting up training camps for players. You can also follow the World Cup and support your national team.
No more bids to host the World Cup
This will be the last time that the World Cup in basketball will be held in one country. We are working on an update that will remove the feature where general managers post bids to host these tournaments.
The reason for this change is that the feature seems to have lost its purpose, which is to activate the community. Also people often use pictures for logos and mascots that they don't have rights to use.
As of next season, the tournaments will be held in randomly selected national team arenas in various countries. This change was first implemented in handball and will be implemented in the other sports as well in the seasons to come. This will always be announced in advance.
League regrouping
There will be league regrouping in selected countries to remove inactive teams from the bottom two league levels. League regrouping will take place in the following countries:
Finland, Iran, Lithuania, USA
If you happen to be moved to a different league during league regrouping and you have chosen a sponsor offer with performance bonuses, there is no need to worry. You will get a chance to switch to a regular sponsor offer or change your target position for bonuses during the first 2 days of the new season.
Good luck!
Author:

vlady

-
Translator:

vlady

Share on Facebook
Share on Twitter
Share on MySpace