Tennis Camp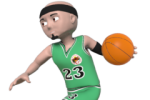 Dear players,
you now have a unique opportunity to get fantastic rewards for your favorite game and try a fun and time-limited Tennis Camp. Would you like to experience that great feeling of a well-executed tennis shot? Now you have a chance to play thrilling tennis rallies in a 3D environment.
Accept this challenge and register in Tennis Mania, the latest game by PowerPlay Studio. Practice your shots in the tennis camp and get a well-deserved reward for your favorite game at the end of it.
Don't forget that the camp will only last for 8 days. Your reward will grow every single day that you show up in the camp.
We'll keep our fingers crossed for you and we hope that many of you will bring home the maximum reward from the tennis camp.
Good luck friends!
Author:

vlady
-
Translator:

vlady
Share on Facebook
Share on Twitter
Share on MySpace