New season, new player salaries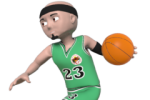 Hi friends,
our youngest and most dynamic game, basketball, will soon be entering season 4. The new season will also bring new formula for calculation of player salaries. But there is nothing to worry about. The new formula takes into account overall rating of players instead of the 2 highest attributes. However, the average salaries of players will not change that much. Players who had one or two high attributes will likely ask for slightly less money next time their contract expires. On the other hand salaries of players who had even attributes will probably increase a little. We have decided to make this change in order to better represent the true strength of players. The change will only affect newly signed contracts from the start of next season. Current salaries of players will remain the same until the contract expires.
We would like to invite you to watch the first ever PPM Basketball World Cup. The tournament has already started and the battle for the best national team in the world is on. All games are free to watch of course.
As usual, there will be league regrouping in the two lowest league levels to eliminate the inactive teams and make the game more interesting. The league regrouping will take place in the following countries:
Argentina, Bosnia and Herzegovina, Brazil, Bulgaria, China, Croatia, Czech Republic, Denmark, Estonia, Hungary, Iran, Latvia, Lithuania, Netherlands, Poland, Russia, Serbia, Slovakia, Sweden, Venezuela
That's all, have a nice day!
Author:

vlady
-
Translator:

vlady
Share on Facebook
Share on Twitter
Share on Google+
Share on MySpace