Engine updates added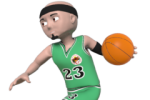 Hi friends,
as we had announced earlier today, the launch of the full version has been postponed by a couple of days. We would also like to inform that we have made a big step forward in the development of the engine. The new version of the engine has several important updates:
we have added the option to set substitutes for each position and also substitution settings
we have updated the way player strength is calculated
recommended height influence for each position has been implemented
offensive and defensive tactics chemistry has been implemented
free throw calculations have been updated
time-outs have been implemented
plus/minus statistics of players are now recorded
As usual, we will appreciate your help with testing these new features (especially the substitutions and timeouts).
Author:

vlady
-
Translator:

vlady
Share on Facebook
Share on Twitter
Share on Google+
Share on MySpace