Welcome to basketball beta version!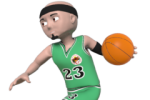 Dear friends,
welcome to the beta version of basketball, the fourth sport on PowerPlay Manager. Feel free to browser through the game and report any bugs that you find in our basketball forums. We will do our best to resolve all the issues as soon as possible so that we can restart the game soon and start the full version.
When the full version starts, you will carry over your team name and arena name. All the other things will be reset and you will be placed in a new league.
Please note that the game engine is still under development and changes can be made at any time. Some features, such as substitutions, are not yet available and will be added during the course of the beta version.
PRO pack and PLUS pack features are available for free during the beta version. Credit tournaments are not available in beta version.
Enjoy the game!
Author:

vlady
-
Translator:

vlady
Share on Facebook
Share on Twitter
Share on Google+
Share on MySpace