Lead your nation to glory!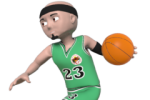 Hi friends,
we are approaching the third season in basketball and also the last chance to post your bids to become the national team managers. Remember, you need to be among the top ten candidates according to preferential votes in order to qualify for the final round of the elections which will take place next week. Yes, we know that it's tough to be elected and only a very small percentage of managers actually make it, but you can still take part by voting for your preferred candidate and helping elect the right person for your country.
It will be an exciting first season for the national teams. The qualification for the World Cup will begin in the fourth week of the season. Day 23 to be exact. There will be 8 groups of 5 teams and the top 3 teams from each group will qualify for the World Cup. Game days for national team will be Tuesday and Friday and the last 9 days of the season will be reserved for the World Cup final tournament. The countries will score points for the world ranking according to their final position in their qualifying group and the World Cup. There will be no points awarded for friendly games.
You can find more information in the guide. I should note that the clubs of the players playing for the national team will not receive share from the ticket incomes of national team games in basketball. The other benefits, such as training bonus and faster experience growth, are the same as in other sports.
We would like to encourage all future national team managers to work with their communities also on preparing a bid to host the first World Cup tournament. The deadline to post the bids will be day 42 of the season.
Since there is a new season coming up, there will also be a league regrouping in the bottom two league levels in selected countries to eliminate inactive teams and increase competitiveness. The league regrouping will take place in the following countries:
China, Czech Republic, Finland, France, Iran, Italy, Latvia, Norway, Poland, Portugal, Russia, Slovakia, Spain, Turkey, UK, USA, Venezuela, Other World
That's all, have a nice weekend!
Author:

vlady
-
Translator:

vlady
Share on Facebook
Share on Twitter
Share on Google+
Share on MySpace