Engine update and new season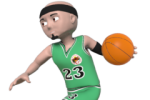 Dear friends,
as we are approaching a new season, we have decided to make a small tweak in the engine based on your feedback.
As you might know, some teams are playing games with only 5 players in their line-up. Since our engine does not allow for any team to play with fewer than 5 players, there may come a point when all the players have reached 4 fouls and that team does not make any more fouls for the rest of the game. There are certain mechanisms in the engine which penalize these teams so that they cannot gain any unfair advantage this way. Many of you, however, have expressed dissatisfaction with this and consider the penalties insufficient.
That's why we have decided to penalize such practices more severely starting next season. The chances of the other team scoring from their shots will be increased even further. Moreover, the team that gets into a situation where they cannot commit any more fouls will have a smaller chance to score from their own shots. This should come into play especially in the 4th quarter when the teams usually reach that point.
When combined with the in-game fatigue caused by the fact that the players played the whole game, the effects will be devastating and should discourage any reasonable manager from employing these kind of tactics.
Don't forget to check out the World Cup and the first ever U19 and U17 World Championships. Support your country!
Here is the list of countries where league regrouping will take place this season:
Belgium, Brazil, Chile, China, Croatia, France, Greece, Iran, Latvia, Lithuania, Netherlands, Portugal, Slovakia, Turkey, USA, Venezuela
League regrouping is a mechanism that removes inactive teams from the bottom two league levels of the selected countries to ensure higher competitiveness in these leagues.
That's all, good luck with your sponsor offers.
Autor:

vlady
-
Tõlkija:

vlady
Jaga Facebook-i
Jaga oma Twitter-it
Jaga oma MySpace-i