New season starting soon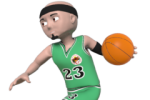 Dear friends,
basketball was launched just over two months ago and its first season is almost over now. We hope you have enjoyed it and there are still plenty of things to look forward to next season.
The Champions' League and Cup Winners' Cup will have its inaugural season. There will be 96 teams in both competitions. The 14 biggest countries according to the number of teams will have 3 entrants in each tournament, while the rest will have 2 entrants per tournament.
We will make a couple of changes regarding the team strength indicator in basketball for the next season. This season, the team strength indicator was calculated only from the raw attributes of your players. It didn't matter whether players played in their correct positions or not. This will be addressed in the new version and we will also add the influence of chemistry, experience and energy which has been missing in this calculation.
Nothing changes in the actual game engine where all of these factors have been there from the start as you could tell from the ratings of the individual players in the game summaries.
Due to the fact that we have plenty of vacant teams in every country, we have decided to run league regrouping in the bottom two league levels in every country. If you happen to be moved to a different league and you have chosen a sponsorship contract with bonuses, you don't have to worry. You will get the option to switch to a normal contract without bonuses or change your target position during the first 2 days of the new season.
Also don't be surprised if you change conferences next season. In order to maintain fairness and parity, conferences will be rearranged every season. All teams in a league will be sorted first based on whether they have a manager or not and then from highest to lowest overall team rating. Teams ranked 1, 4, 5, 8, 9, 12, 13 and 16 will be placed in one conference and the other 8 teams will go to the other conference.
That's all, have a nice day!
Autor:

vlady
-
Tõlkija:

vlady
Jaga Facebook-i
Jaga oma Twitter-it
Jaga oma MySpace-i