Bug fixes and new features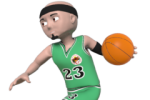 Dear friends,
In recent days and weeks we have uploaded some new features and bug fixes in basketball, handball and soccer. I will start with our newest sport.
Basketball news
We have made a few fixes in the basketball game engine. The influence of the in-game energy was fixed and we have also taken some more measures to make sure that playing with only 5 players is not a viable tactic. We have also fixed some smaller bugs regarding substitutions. For instance if the first substitute fouls out, the player from the starting lineup will return to play, unless he is benched because he has reached 3 or 4 fouls. The second substitute will only be used in case the starter and the first sub are not supposed to play. In other words, the second sub no longer inherits the settings of the first sub.
In order to make your job of creating your lineup easier, we have added a filter for positions. You can use checkboxes to only display those players that are suitable for that position. The filter only takes into account the recommended height for each position and not the actual attributes of the players. However, the player's height and his attributes (and qualities) are somewhat connected and a taller player is more likely to have attributes suitable for a center or a power forward. It's mainly designed for new users and those who are not so familiar with basketball as a sport.
Some small bugs have also been fixed in the live broadcast.
Handball news
In handball we have added goal animations to the match reports. Just click the film icon next to the goal scorer's name to see how the goal happened.
Soccer news
In soccer we have fixed some bugs with substitution which only occurred when you made a certain combination of moves. When this happened, there would only be 9 field players displayed on the pitch and the substitutions would not happen in the game. That should not happen any more.
That's all, have a nice day!
Autor:

vlady
-
Tõlkija:

vlady
Jaga Facebook-i
Jaga oma Twitter-it
Jaga oma MySpace-i