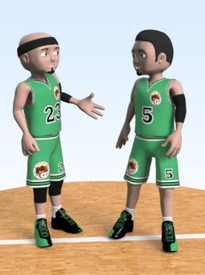 Get free credits!

Invite new managers to the game and get up to 12 credits for one referral!
Notepad
This feature is part of the PRO pack!


Next game
BC JENKIE
League game
13.06.2021 20:30:00

Expert's estimate
Price in credits: 10

This feature is part of the PRO pack!
&nbsp
---

The option to create a team uniform
As a PRO pack owner you have the right to create unique uniforms for your team which will then be used by your players in each game. The uniforms are displayed on a number of pages and they are a trademark of each team.
The option to create your own team uniform is part of the PRO pack. Uniform is a trademark of every team and it is often viewed by other managers. There are two ways to create a uniform. You can either create one from an image or you can use the automatic uniform creation tool.You can create one uniform for home games and one uniform for away games.
TEMPLATE
Home uniform




Away uniform



Create uniform from image:
How it works?
You can see an example of a picture you can use below. The system generates a uniform from the picture so that the parts of the image outside the uniform are deleted.


Automatic uniform creation tool
Uniform background color

You can select the uniform background color here. This will be the dominant color of the uniform.

Uniform pattern color

Here you can set the color of stripes or other patterns on your uniform.

Jersey inscription color

Here you can set the color of the inscription on the jersey.

Jersey number color

Here you can set the color of the jersey number.

Other parameters and preview

Finally, you can select one of the available patterns.

Uniform pattern
Jersey inscription font
Jersey inscription
Jersey number